I is for Ice Cream! Which means there are 17 more days left until summer vacation! Tomorrow after school I am attending a staff meeting at my new school. So I get to meet the whole staff, visit with my new teaching partner, and take a sneak peak at my new classroom! SO excited!!!
Well my class has earned ten "green slips" for good behaviour, so ice cream day was timed perfectly as a little reward. I had BIG plans to do a whole day of ice cream activities... descriptive writing, math problems, a glyph, etc.... but we're so busy finishing up our non-fiction books, learning about 3D shapes, and we just started a fairy tale unit! All we had time for today was graphing and eating! We did our usualy pocket chart graph and then students filled in their own versions of the graph and answered a few questions. Click the picture to download your own copy!
Yum yum! Perfect day for a little ice cream sundae!
Speaking of summer, we did this adorable little craftivity and writing from Hadar at
Miss Kindergarten
. They turned out so bright and fun!
I love the last line.... "I think school is awkward." hahaha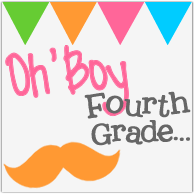 That's it for tonight! G'nite!