I'm joining up with Kristin and Hadar for their fun 11 in '11 Linky Party!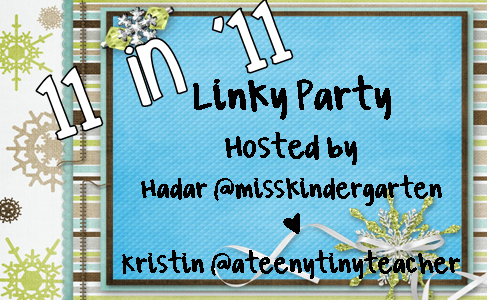 11. Favorite movie you watched:
I am a HUGE Twilight fan. Yes, I like the books way more than the movies, but I was still waiting and waiting for this to come out!
10. Favorite TV series:
I love so many shows... How I Met Your Mother, 2 Broke Girls, Glee, Criminal Minds, The Big Bang Theory, The New Girl, and Once Upon a Time.
9. Favorite restaurant:
My all-time fave is Mongo's Grill. It is Mongolian stir-fry. You pick all your ingredients and sauces, and they cook it right in front of you on this huge round grill. So yummy!
8. Favorite new thing you tried:
Growing up, I never had dogs, but have always wanted one! In July, my boyfriend and I welcomed Bella, a pure-bred chocolate lab, into our little family. She is such a joy and I absolutely love having her! We will be getting her a new puppy friend next summer :)
This is Bella on the day we brought her home. She was 6.5 weeks old. Look at how small she was!
This is Bella now, at 7 months old.
7. Favorite gift you got:
Being from Manitoba and dating a hockey player/huge NHL fan, it's no surprise I have come to love hockey too. I think the whole province was excited to hear the NHL was coming back. We have been wanting our Jets back for 15 years!
Anywho, for my birthday I got my own Winnipeg Jets jersey and attended my very first NHL game. So exciting!
6. Favorite thing you pinned:
I just, JUST got myself a Pinterest account and I've only pinned three books to read so far. No other pins... yet!
But books to read are "Water for Elephants", "Still Alice", and "The Hunger Games".
5. Favorite blog post:
My favorite post was my
Christmas Math Stations
. It was my first venture into TeachersPayTeachers and I got so much love about them. This Blogger community is amazing!
4. Best accomplishment:
Getting this job as a first grade teacher was really amazing! I had my interview in April, and that same night they called and offered me the position. I love my school, my staff, and my students. Even though they are a challenging bunch, I really love all of them and love how excited they get about EVERYTHING!
3. Favorite picture:
This is our family Christmas picture. It's not the greatest (dog likes cats, cats don't like dog, dog likes treats, cat scratches Amanda...) but it's the best we could get! lol
2. Favorite memory:
Camping in the Rocky Mountains in Banff, Alberta. So beautiful!
1. Goals for 2012:
Eat healthier. Cook more.
Walk Bella everyday.
Start house renovations.
Be better at lesson planning (think long term, not just weekly/daily).
Blog and comment more!
Hope everyone is enjoying their holidays! Happy 2012 everyone! :)